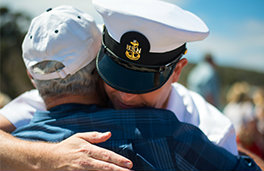 Veterans and Vehicles
As a community credit union, it should be no surprise that the strength of our community is a top priority to NW Plus CU. Providing support to our local military veterans is just one more way to strengthen community bonds and offer our humble thanks.
That's why when you close a new, in-house auto loan from now until the end of November, NW Plus CU will proudly donate $100 to Salmon for Soldiers.
Click questions to see answers.
Salmon for Soldiers?
As a local, veteran-based, nonprofit group, Salmon for Soldiers takes active and retired military veterans and their families out fishing in the beautiful waters of the Pacific Northwest. Once a small venture, Salmon for Soldiers now attracts thousands of participants and onlookers each year.
How to Help?
Our competitive and flexible vehicle loans offer a wide variety of options. Whether you're looking to buy, or just refinance at a lower rate, we can help. Our "auto loans" can be used for cars or trucks - new or used.
Check out our personal auto loans page to learn more and begin your application on line. Otherwise, reach-out to our helpful personal loan representatives at any location to get started.
For more information
Call 425.297.1002 or email us