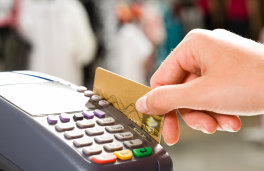 Credit Card FAQs
Click questions to see answers.
What cards are available?
VISA Platinum

VISA Platinum Rewards
What is CU Rewards?
Earn 1 point for every dollar charged on purchases and 2 points on gas and grocery. Points expire after 5 years including the year in which they were earned. Points earned during cycle period, total points and the date points will expire are printed on the monthly account statement. Point totals are also available online through the CURewards site. To view merchandise catalog and travel information or to redeem points go to www.CURewards.com, call 800.900.6160 or download the curewards app.
When are payments due?
The fixed due date is the 11th of every month. Visa Credit Cards do not have a payment grace period.
How are the minimum payments calculated?
Required minimum payments are calculated at 2% of the outstanding balance on the last day of the cycle or $25; whichever is greater.
$25 late fee is assessed if payment is not received on or before the due date.
**If the 11th falls on the weekend or a holiday all payments received through the mail or at the branch on the following business day will be effective dated to the 11th.
Is there a Payment Float?
Payments $1,500 or more are posted to the account when received but the limit will not reflect the payment for 3 calendar days. The exception to this is cash payments or account transfer payments (collected funds) which are made at a CU Branch.
I need to contact Cardholder Services, how do I do that?
24x7 Cardholder Services:
866.820.2972
I lost or had my credit card stolen, what do I do?
Call 800.449.7728
All reports of lost/stolen cards or any unauthorized transactions are handled through the Cardholder services lost/stolen department. Cardholders must call and repost lost or stolen cards as soon as possible.
I want to access my account online, how do I do that?
Online access to your Visa Credit Card is provided on our NW Plus Credit Union Webpage, via Personal Branch. After registration cardholders are able to obtain balance and transaction information, make payments, enroll in e-statements, view e-statements and enroll in transaction alerts.
Cardholder Payment Protection
Cardholders can enroll in credit life insurance, disability and unemployment insurance. Brochures and enrollment forms are included with cards at account opening and reissue. Inserts are also included in statements four times a year.
Claims number 800 445-6500
Defense Edge
Monitors accounts for unusual activity such as an increase in authorizations, changes in the types of transactions or geographic locations which are unusual to the account. The fraud representative will attempt to call the cardholder to confirm the transactions are legitimate. If they are unable to make contact they will leave a message for the cardholder to contact them and will often block further authorizations until contact is made.
What is Travel and Accident and Baggage Delay Insurance:
Loss of life or personal injury sustained while traveling on, entering or exiting a licensed common carrier. The entire cost of passenger fare must have been charged to the travelers Visa Platinum Card. Baggage delay will cover a maximum of $300 for expenses incurred for emergency purchase of essential items needed by the cardholder while on a covered trip.
Brochures are included with the credit card at account opening and reissue (sent out with card), no enrollment is necessary.
Claims Phone #: 844.245.2503
Visa Transaction Alerts
Signup for E-mail and text alerts for everyday purchases on your Credit Card. Members will sign in to their on-line Visa account and follow the links there. Transaction Alerts are not monitored by the credit union and each member can set their own alert parameters.