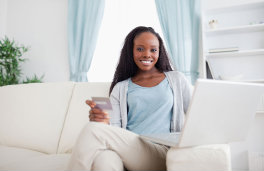 Debit/Credit Card Security
NW Plus CU takes fraud serious and as such, offers protection for your Debit Cards. With this service, we are continually monitoring your Debit Card Transactions to make sure that the transactions happening are done by you. If we suspect that a transaction was not done by you, you will receive a phone call that asks for you to verify that you actually completed the transaction. This protects you against fraud and the unlawful use of your Debit Card. If a transaction happens outside the USA, we may call immediately to verify that the transaction was actually completed by you.
We would like to offer the following words of advice on Credit Card Security. Some of these may seem like common sense, but we thought they were worth repeating.
• Don't share card # or PIN with Anyone
• Never carry your PIN and Card together
• Be conscious of possible phishing scams through e-mail or over the phone.
• Be mindful of the merchants you are using. Are they reputable?
• Be diligent about checking you statements for unauthorized transactions
• Make sure you keep your contact info up to date. NW Plus employs a 24/7 fraud specialist to help monitor your account against unauthorized purchases. In order for them to reach you in the event a possible intrusion occurs the CU must have all of your updated contact phone numbers.
• NW Plus CU offers preventative fraud measures including Transaction Alerts.
• If ever in doubt, call our 24/7 fraud hotline at 800.449.7728