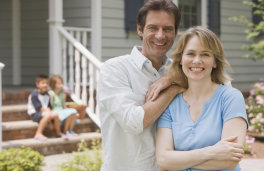 Mortgage FAQ
Click questions to see answers.
Where can I get basic, straightforward home-buying advice on the web?
You've come to the right place. Your credit union is proud to offer MortgageClick, a resource for our members when entering the home-buying market. Basic information can be found in 'Home Loan Basics' section,Our comprehensive glossary will define the basic and not-so-basic terminology that is frequently used in mortgage lending.
At what stage of the home-buying process should I visit my credit union?
It is best to visit NW Plus CU's mortgage department before you even begin to shop for that new home. A basic pre-qualifying exercise will give you a feel for how much home you can afford. Mortgage Pre-approval will take this one step better, and will not only provide you with affordability information, but also will give you a leg-up in the negotiation process. There is no doubt that a buyer with a guaranteed funds has more leverage in a negotiation than one who is still waiting to hear back from their lender.
What is a first mortgage?
A first mortgage is exactly what it says it is - the first loan on a certain piece of property. No other lien has been taken out on this home. When you first buy a house, the loan you typically receive is a first mortgage.
What is a second mortgage?
A second mortgage is also what it says - the second loan against a specific piece of property. Consider this example: Let's say you have a first mortgage on your home. The value is $100,000 and you have a $60,000 balance left to pay on your loan. The $40,000 difference is considered equity, or the part of the home that you own outright. If you wish to further borrow against that $40,000, you would be taking out a second mortgage on the home in order to do so. Why borrow against this equity? In many cases, the interest rate you pay on your mortgage is lower than many other types of loans. Interest is also frequently tax deductible for a first or second mortgage, but not necessarily for a car loan or a credit card. (Consult your tax advisor for more information on tax deductibility and home loans.)